Pet Bouv Grooming Diagram
Here's a pictorial guide to grooming a Bouvier pet or working dog. This is not a guide to grooming for show. I've over-laid a drawing of a typical show Bouv with colored areas to show where I would use various tools to trim the hair.

Your own taste may differ.
diagram for pet and working dog grooming
by Pam Green, © 2020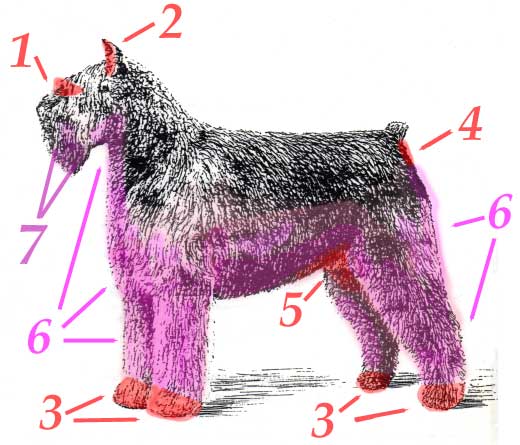 Here is my own "by the numbers" methodology. Your mileage may differ. Your esthetic taste and your practical needs may differ. The order in which you do these steps can vary. I consider the first four to be the most important.
1. (shown in red) Use blunt tipped scissors to cut large "windows" for the eyes.


2. (shown in red) Clean the ears and pluck excess hair from the inside. Use a #10 blade to shave the inside and outside of the external ear. Or use scissors.


3. (shown in red) Use #10 blade or scissors to remove hair from tops of feel and from between the toes. Also remove most of the hair between the pads on the underside of feet. I like to stop where the legs become vertical.


4 &5. (in red) Carefully scissor the hair away from the anal region and around the vulva on bitches or the sheath on males. Alternatively this can be done with clippers and #10 blade, but make sure the blade is cool. You might do this as your first step. I like to shave the belly area and the insides of the thighs.


6.(in pink) With #4 blade or with scissors, shorten the hair on the legs, the area below the anus down to the vulva or scrotum. Shorten the hair on the front of the neck and under the jaw. Shorten the hair on the belly underside and lower part of the sides of the chest.


(not indicated on diagram) You may want to thin out or shorten the hair on the rest of the neck and on the back and uppser sides. This is a matter of appearance and also the dog's comfort in hot weather. Perhaps shorten to about an inch or so. Or you might clip with the #4 blade.


7.(pink or pinky lavender) Optionally use thinning shears to thin out the beard and side of cheeks. This is a matter of taste and to balance with the rest of the dog..
return to top of page
---


Related topics :


---