go to menu bar for site sections
Emily Dickenson was asked who she had for company. She replied "Clouds and a huge dog that my father gave me".
Here , to tune of "The 12 days of Christmas" , is a count of my current company.
I Have for Company
by Pam Green , © 2019
(to tune of "12 Days of Christmas")
For my joy and my comfort
I have for company
Three Bouviers
One Heeler Queen
And a Kelpie who watches TV.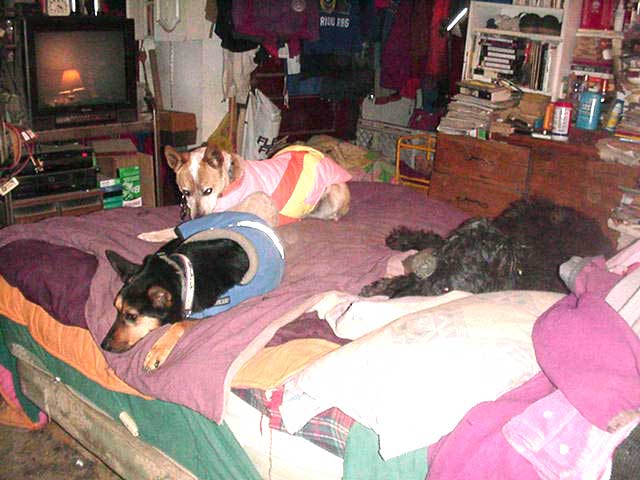 Fox (rear), Lady Bug (middle), and Velvet (front) on my bed
(probably after returning from a walk on a cold day)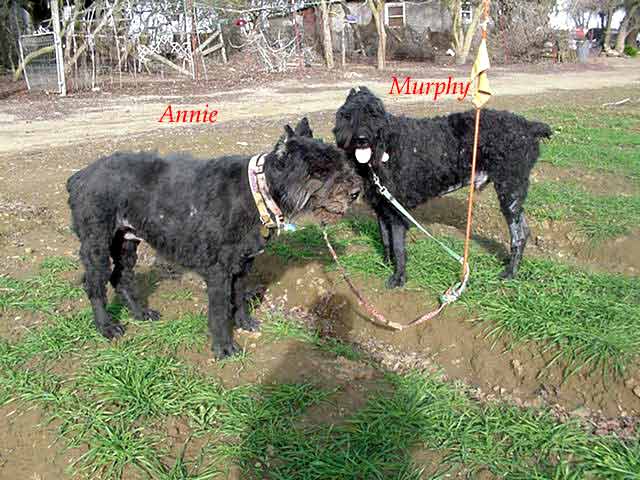 Annie (left) and Murphy (right) in the yard
(their legs are shaved, which looks strange but is an anti-foxtail measure)
(on leash and anchored so that I could position them in same photo frame)
The three Bouvier are Velvet, Annie, and Murphy, all senior dogs and very easy to live with.
The Heeler Queen is Fox The Wicked Queensland, a very dominant bitch and very much a true Heeler.
The Kelpie is Lady Bug, sometimes Lady-Be-Bad. I really should try her on sheep, because if she herded them she would then become "Lady Baa Baa" and if she showed no desire to herd she would become "Lady Baa Bah". She really does watch TV, reacting strongly to any animal, especially to any dog.
Update September 2019 : Murphy passed away 9/02/2019, just a couple months short of his 13th birthday. The rest are still alive and generally healthy, though last year Lady Bug nearly died from Immune Mediated Hemolytic Anemia and a few months ago Annie lost an eye to glaucoma.
Annie passed away during the night preceeding 10/24/19. Six weeks after Murphy's death, six months after losing her left eye. She had been comfortable and happy until her very sudden death.
---


Related topics :


---